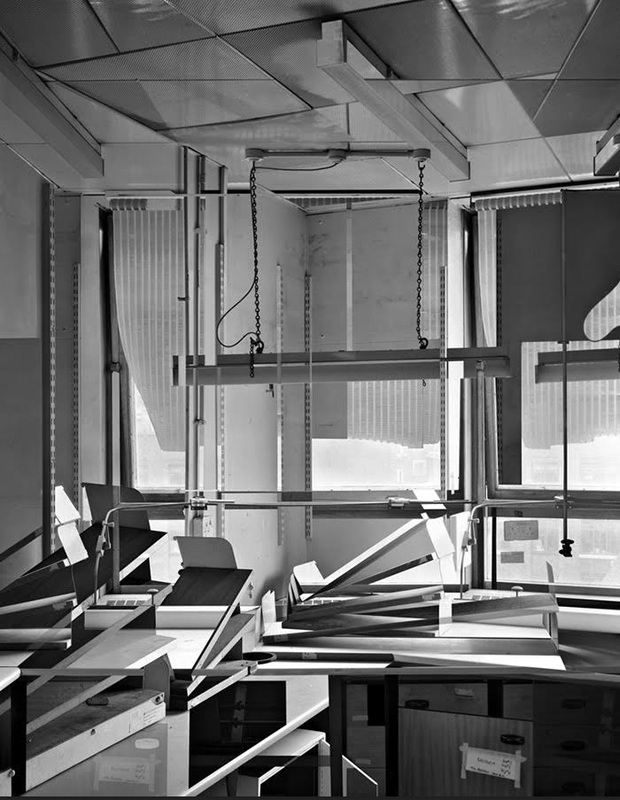 The architectural photographer Simon Kennedy has an exhibition of his work opening this evening
1 September at the Fitzrovia Gallery 139 Whitfield St London W1T 5EN. I have written a text to accompany the images, part of which follows. The show runs until 12 September.

The photographs seen in Constructed Images show Wolfson House in central London: formerly used as a laboratory, it is presented empty and unused. A building of everyday modernism, it was built at a time when architecture was built to an ideal, with the integrity of real materials and building elements rather than the simulacra of the post modern condition.

Each photograph is a construction, a photomontage of images from divergent space and time, so the photographs demand careful scrutiny. There is a dislocation of elements to create new formal configurations: staircases that lead nowhere, windows that are fractured, a play of spaces that makes no sense. A faceted, fragmented montage of recognisable components, presented both in positive and negative images: and these elements are carefully juxtaposed and transformed into a new unity, reimagining modernist qualities.

These constructed images are very much redolent of the analytical Cubism that influenced them, but also at a smaller scale echo the construction of architectural images by other contemporary artist-photographers such as Andreas Gursky or Beate Guetschow. These uninhabited spaces are re-made into new intriguing configurations, shaped by the utopian impulse of modernism. They present an intriguing play with time and circumstance to build an alternate photographic language of architecture.