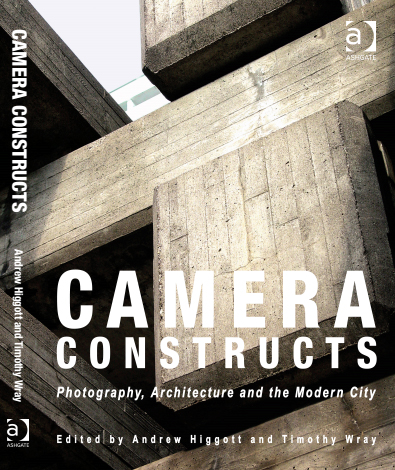 The paperback edition of
Camera Constructs: Photography, Architecture and the Modern City
, with additional colour pages and improved image quality, has just been published by Ashgate. It's £35, and available online for less.
Some extracts from reviews published after its initial 2012 appearance :
A brim-full compendium packed with a rich variety of relational investigations into photography, architecture and urban space. This volume…opens the box that will not close again- the box in which photography is no longer one thing, but instead is many things, differing in kind as well as in degree.
Claire Zimmerman

College Art Association Review
This volume offers an expansive range of conceptions of architectural practice- from the imagined spaces of the unconscious, to the pristine spaces of modern architecture, to the virtual fields of Google maps. This range testifies to the commanding influence photography has had on architecture.
Pepper Stetler

History of Photography
Photography is how most architects experience other buildings, through the feedback loop of architectural journals and now the web. Higgott and Wray detail how this promotes abstracted visions of architecture while pushing inhabitation, space and materiality into the background.
Eleanor Young

RIBA Journal
'A photograph is always invisible, it is not it that we see': as its title suggests, the book subtly and consistently reiterates Barthes' point, helping the reader to focus on the object rather than the subject of the photograph, and therefore critically establish the parameters by which architecture is judged, validated and ultimately constructed…The book is cleverly curated to offer many disparate ways to appreciate the underlying thesis, accessible to all levels of reader...a valuable contribution to the ongoing evaluation of architecture's relationship to its favourite medium.
Steve Parnell

Architecture Today